Apple's 13-Inch Retina MacBook Pro to Launch 'Before October'?
Just before last month's Worldwide Developers Conference (WWDC), KGI Securities analyst Ming-Chi Kuo correctly predicted that Apple's MacBook Pro with Retina display would appear alongside the standard MacBook Pro instead of as a direct replacement, also accurately claiming that only the 15-inch Retina MacBook Pro would be making an appearance while a 13-inch model remained in the works.
At the time, Kuo believed that Apple could have the 13-inch version ready by August, but in the wake of WWDC he revised his predictions to indicate that Apple would begin ramping production in September for a launch in October.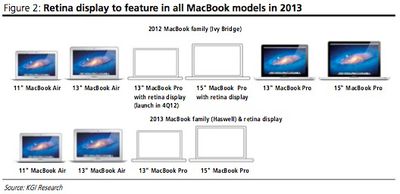 Kuo's post-WWDC predictions for Apple's 2012 and 2013 MacBook lineups
Digitimes now reports
that while Apple has been included among other PC vendors amid rumors of delayed or decreased shipments, the company's plans for the Retina 13-inch MacBook Pro are in fact on track and may even see a debut "before October" in order to address the back to school market.
As for Apple, the sources pointed out that Apple has demanded its upstream partners start supplying components for the 13-inch model in the third quarter and they have not yet heard anything about changing of schedule. As for when the product will launch, the sources believe the new MacBook Pro will have a chance to launch before October to catch up with the back-to-school season.

Apple also did not reduce its shipment forecast for 2012 and is still expecting its notebook shipments to grow 30% on year, the sources pointed out.
After a relatively slow start to 2012 as Apple awaited the launch of Intel's Ivy Bridge processors, the company appears to be setting itself up for a busy second half of the year. Even after a strong upgrade to its MacBook Pro and MacBook Air lines at WWDC, Apple still has plenty of products apparently still in the pipeline, including a new iPhone expected later this year, rumors of an "iPad mini", 13-inch Retina MacBook Pro models, and an update to the iMac line.