Apple to Provide Adapter for Smaller iPhone Dock Connector
With Reuters becoming the latest publication to report that the next iPhone will include a smaller dock connector, many are continuing to wonder what will happen with legacy accessories that take advantage of the current 30-pin dock connector that has been in use since 2003.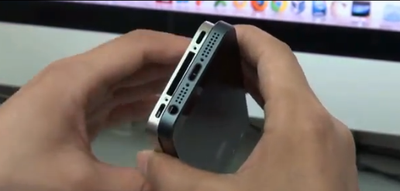 Casings for iPhone 4S (left) and claimed next-generation iPhone (right) showing significant reduction in dock connector size
iMore
, which was
first to report
on the smaller dock connector back in February, has now
confirmed with its sources
that Apple will indeed be offering an adapter to provide backwards compatibility with accessories designed for the 30-pin connector.
While this seems like it should have been filed in the obvious drawer, because of all the questions we've been getting, and posts we've been seeing, iMore reached out to the original sources that gave us the new Dock connector story way back in February just to make doubly sure -- and yes, there will be an adapter for the iPhone 5's smaller Dock connector that will let it work with many of the accessories designed for the old 30-pin Dock connector.

We haven't heard if one will be included in the box along with the iPhone 5, or will only be sold separately, but either way, come October, you'll be able to get a new-to-old Dock adapter from Apple.
The report notes that some accessories may not be compatible with the adapter given their fit, but many accessories will continue to work using the forthcoming adapter.
While Apple is generally not afraid to abandon legacy standards in order to make changes advancing new standards or designs, the company has sometimes offered adapters to help ease the transitions. Perhaps the latest example is Apple's new MagSafe 2 power connector found on the new MacBook Air and Retina MacBook Pro. Apple offers a separate adapter priced at $9.99 to allow users to use older MagSafe power supplies with the new machines. The company is also including a free adapter with the Apple Thunderbolt Display, which still uses the original MagSafe connector for providing power to portable machines.