In its quest for thinness in the Retina Display MacBook Pro, Apple removed the optical drive and built the display into the unibody construction. The company's engineers also designed a new, thinner MagSafe power port to accommodate the notebook's 0.71" height.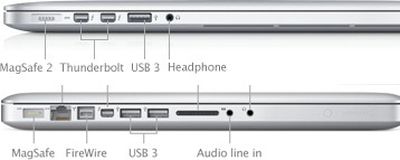 The new MagSafe 2 connector -- which is incompatible with the original MagSafe power bricks as well as devices with a MagSafe power cord built into products like the Apple LED Cinema Display and Thunderbolt Display -- is included in the new Retina MacBook Pro as well as the new MacBook Air models. It seems likely the port will make its way to the legacy MacBook Pro models in a future update.
Apple is selling a MagSafe to Magsafe 2 Converter for $9.99 on the Apple Online Store, as well as new 85W and 45W MagSafe 2 Power Adapter for $79 each.