Functioning Apple 1 Sells for $375,000 at Sotheby's Auction
A functioning Apple 1 computer, one of the first 200 computers sold by Steve Jobs and Steve Wozniak, sold for $374,500 including the 12% buyer's premium at a Sotheby's action in New York. The Apple 1 originally sold for $666.66. The BBC notes that only about 50 Apple 1's still exist and only a handful actually work.
Sotheby's said there was a battle between two parties for the item which also included the original manuals. A set of bids were executed by the auctioneer on behalf of an absentee collector, but a telephone bidder proved more persistent and eventually clinched the sale.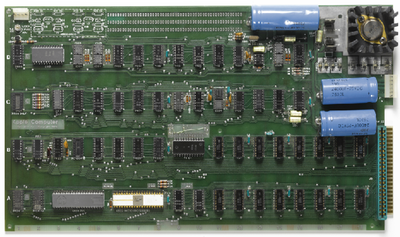 APPLE I COMPUTER

Operational Apple Computer I. An Apple I motherboard, labeledᅠon obverse AppleᅠComputer I, Palo Alto, CA. Copyright 1976. Includes circuit board with four rows A-D, and columns 1-18; MOS Technologies 6502 microprocessor, labeled MCS 6502 3776; video terminal; keyboard interface; 8K bytes RAM in 16-pin 4K memory chips; 4 power supplies including 3 capacitors; firmware in PROMS (A1, A2); low-profile sockets on all integrated circuits; breadboard; heatsink; expansion connector; cassette board connector. (15 1/8 x 9 in.; 385 x 234 mm)

Together with: Apple I Cassette Interface, labeled Apple I Cassette Interface Copyright 1976, partial "G" lettered in triangle on reverse, in black ink manuscript (4 x 2 in.; 102 x 50 mm). — Apple-I Operation Manual. Palo Alto: Apple Computer Company. 12 pp. in wrappers (11 x 8 1/2 in.; 280 x 214 mm), with 8 circuit diagrams, 2 on foldout printed verso and recto, one full page; with original Apple Computer Co. logo on upper wrapper; tear along fold, light staining on wrapper and bottom right corner. — Apple-I Cassette Interface Manual, Palo Alto: Apple Computer Company. Oblong 8 pp. bifolia (8 1/2 x 5 1/2 in.; 140 x 215 mm), with some staining to wrappers; original logo on upper wrapper, warranty onᅠlower wrapper —ᅠPreliminary Apple BASIC Users Manual. Palo Alto: Apple Computer Company, October 1976. 8ᅠstapled sheets (11ᅠx 8ᅠ1/2 in.;ᅠ280ᅠxᅠ214 mm), printedᅠversoᅠand recto, with first sheet onᅠblueᅠpaperᅠwith tear along stapleᅠandᅠmanuscript "Randy JᅠSuess."ᅠSomeᅠstaining toᅠfirstᅠandᅠlastᅠpage,ᅠwithᅠtearᅠonᅠlast page. — Double-sidedᅠadvertisement with illustration for Apple IᅠComputer and theᅠApple Cassette Interface,ᅠwith manuscriptᅠnote (11 xᅠ8ᅠ1/2 in.; 280 x 214 mm).
Early Apple memorabilia has been a hot ticket recently. Sotheby's sold Apple's founding corporate papers -- signed by Steve Jobs, Steve Wozniak and Ron Wayne -- in December for nearly $1.6 million.