Apple to Launch Standalone Podcast App with iOS 6
Earlier this week, AppAdvice noted that three categories of content had disappeared from the iTunes app in iOS 6: Podcasts, Audiobooks, and iTunes U. Apple launched a dedicated iTunes U app earlier this year, but the fate of the other content types in iOS 6 remained unclear.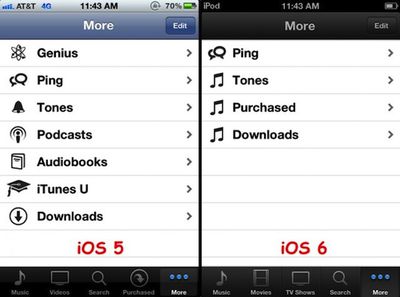 AllThingsD now reports that Apple will also be launching a standalone app for podcasts in iOS 6, giving them greater visibility while simplifying the iTunes app that has become home to an increasingly large number of content categories.
So why have podcasts disappeared from the new version of iTunes that Apple started showing to developers this week?

Because Apple plans on giving the recordings their own bit of digital turf.

People familiar with Apple's plans tell me that when its new iOS 6 software becomes widely available this fall, podcasts will have their own app, where users will be able to discover, download and play them on mobile devices. Users who access iTunes via laptop and desktop machines will still find them in that version of iTunes, though.
Podcasts are one of the longest-tenured media types on Apple's portable devices, having been available through the iTunes Store since the release of iTunes 4.9 in mid-2005.