iTunes U for iPad Retools the Learning Experience
In the second half of Apple's education-focused media event today, the company turned its attention to iTunes U, the company's free educational podcast section in the iTunes Store. Eddy Cue took the stage to announce that over 1,000 universities are currently using iTunes U, with the program's content having seen over 700 million downloads to date.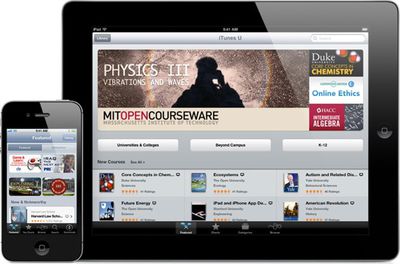 The new iTunes U app advances iTunes U from audio and video lectures to a full-fledged learning app, allowing non-traditional students access to huge amounts of free content but more importantly for Apple, allowing schools to adopt iTunes U as a learning platform.

The all-new iTunes U app lets teachers create and manage courses including essential components such as lectures, assignments, books, quizzes and syllabuses and offer them to millions of iOS users around the world.
Courses are created via the iTunes U Course Manager, a web-based tool that allows teachers to build a course that includes a syllabus, handouts, quizzes, and other items. Course materials are hosted by Apple and available to anyone taking the course -- by default, courses are open and available to anyone, though it appears schools can restrict their courses to only their students.
For users, iTunes U for iOS has more than 100 courses already optimized for iOS, with more on the way. A quick perusal of the app shows classes from Yale, Duke, MIT, and Stanford -- including Paul Hegarty's well-regarded iPad and iPhone App Development course [Direct Link].

iTunes U lets you take a complete course on your iPad. View the course overview, instructor biography, and course outline. Read posts and keep track of your completed assignments. Watch videos directly within the app, read books, and view all your course notes in one place. Receive push notifications alerting you to new posts from the instructor. And iCloud keeps your notes, highlights, and bookmarks up to date on all your devices.
iTunes U is a free download for iPad and iPhone on the App Store [Direct Link].