New Features in iOS 6 Receive Spotty Support from Older Devices
Apple claims that iOS 6, the next version of its iPhone and iPad operating system, is "compatible" with devices as old as the iPhone 3GS. The 3GS was originally released nearly three years ago in June 2009 -- an eternity in gadget time.
However, at the bottom of Apple's iOS 6 info page lies a small disclaimer: "Not all features are available on all devices." This is followed by eight footnotes detailing exactly which features work on which devices.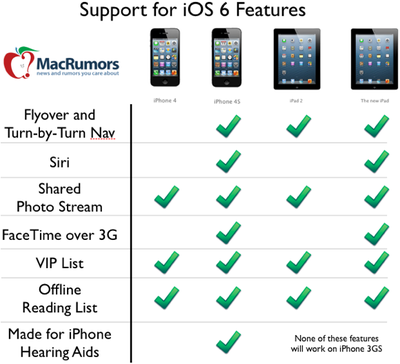 Some features, like the VIP List for email, the Offline Reading List, and Shared Photo Stream won't work on the iPhone 3GS. Even flagship iOS features like Siri and FaceTime over cellular won't work on recent devices like the iPhone 4 or the iPad 2 -- not to mention the iPhone 3GS.
All that said, however, iPhone 3GS owners will receive iOS 6 features like redesigned App and Music Stores, Cloud Tabs in Safari, Facebook integration, and other improvements -- it just won't include nearly the same number of features as the owners of Apple's latest and greatest gadgets.