Reuters reports that China Mobile Chairman Xi Guohua has once again publicly stated that the world's largest mobile phone carrier is engaged in talks with Apple about offering the iPhone to its customers.
"We've been actively talking to Apple on how we can cooperate," China Mobile Chairman Xi Guohua, who assumed the post in March, told a shareholders meeting. "I can't give you too many details, but I'd like to repeat that both sides do hope to boost our cooperation," Xi added after the meeting.
China Unicom was Apple's launch partner for the iPhone in China, and availability expanded to China Telecom earlier this year. Compatibility with China Mobile's network has, however, been hampered by the carrier's custom technology that would require specialized iPhone hardware to operate on the network. But with future wireless modem chips adding compatibility for China Mobile's network, it is possible that the next-generation iPhone could be directly compatible with China Mobile's network, eliminating the need for custom hardware to suit the carrier.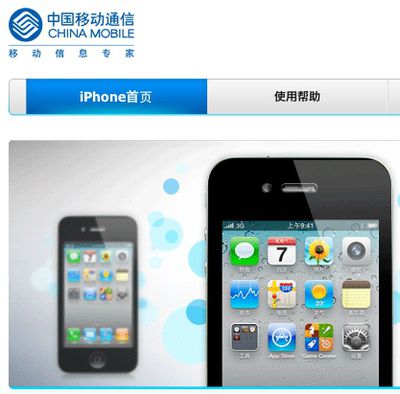 China Mobile already has 15 million iPhone customers on its network, even though those customers are limited to the carrier's 2G network due to the differences in standards for 3G networks. The carrier has even taken to officially supporting those customers with a SIM-cutting service and other resources.
Xi's predecessor, Wang Jianzhou, stated several times that China Mobile was in talks with Apple about the iPhone, so it is unclear whether Xi's statements indicate that progress is being made or if there is simply an ongoing dialog between the two companies that has yet to lead to a firm relationship.