China Mobile Hits 15 Million Unofficial iPhone Users as Apple Fixes iPhone 4S Signal Issues
China Mobile may be the world's largest carrier with over 650 million customers, but it is not yet an official iPhone carrier, due in part to unique technology used for its 3G network that would so far have forced Apple to build special hardware to be compatible with the carrier.
But that hasn't stopped the carrier from supporting the iPhone for its customers to use on its 2G network, and Tech in Asia now reports on news from Beijing Daily sharing that China Mobile now has 15 million iPhone users. The milestone comes just over four months after the carrier reached 10 million iPhone users.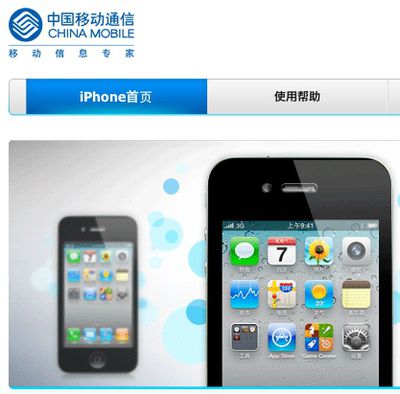 Despite the iPhone's popularity with China Mobile's customers, the device's potential there is undoubtedly barely being tapped, with advances in chip technology and the carrier's network meaning that future iPhones are likely to run on its fastest 4G LTE networks without requiring unique hardware.
Even iPhone 4S users trying to use the device on China Mobile's 2G network have been experiencing difficulties with SIM card activation, but Beijing Daily reports (via The Next Web) that the issue has now been resolved by Apple despite the fact that China Mobile is not an official carrier for the device.
Apple Inc. may release an IOS update specifically for the Chinese mainland in early March to resolve the signal problems plaguing iPhone 4S owners using China Mobile's network.

China Mobile said that Apple had updated the system of all iPhone 4S handsets manufactured after Feb. 8, 2012 to fully support its network, and will offer a software update for previously manufactured iPhone 4S handsets in early March.
The issue is reportedly related to the handling of two different frequency bands used by China Mobile's 2G GSM network, with iPhone 4S incompatibility with the E frequency band resulting in users being unable to connect to the network in areas served by that frequency band.