Claimed iPhone 5 SIM Card Tray Appears Identical to iPhone 4S
Following last week's leak of home buttons claimed to be for the next-generation iPhone, parts vendor SW-BOX.com has just posted information on a claimed iPhone 5 SIM card tray fresh from one of its parts suppliers.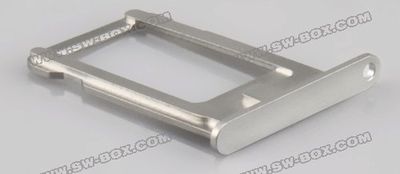 The tray appears essentially identical to the SIM card tray found in the iPhone 4S and 4, and if the part is indeed legitimate it suggests that Apple may retain a similar flat-edged form factor for the forthcoming device. Such a design would be opposed to a tapered or rounded-edge design that would likely require a somewhat curved exterior surface for the tray or at least a thinner tray profile as was seen in earlier iPhone models such as the 3G and 3GS.


Apple has been pushing for its own "nano-SIM" standard, but has so far been unable to win approval as competitors have objected to the proposal and offered their own designs for a smaller next-generation SIM card. Unsurprisingly, it appears that a smaller nano-SIM design will not be ready in time to be included in the next-generation iPhone.
Apple is expected to introduce its next-generation iPhone later this year, with many observers suggesting that Apple will once again target the September-October timeframe for the launch. Many users have been hoping for a significant redesign following Apple's pattern of maintaining a similar form factor for two generations between major design overhauls, but part leaks that might reveal Apple's plans have yet to begin surfacing.
Update: As several observers have pointed out, the SIM card tray does have some subtle differences compared to the tray used in the iPhone 4S and 4, with a slight tapering of metal frame pieces and an extra metal shelf not seen in current trays. Consequently, the part certainly appears to not simply be an iPhone 4S SIM card tray, and while it could be a knockoff part, SW-BOX.com and its supplier seem to believe that it is genuine.


(Thanks, CydiaBlog.com)