Vote on Nano-SIM Standard Delayed Amid Continued Disagreements
Earlier this week, we noted that Apple had offered royalty-free licensing of its proposed design for next-generation "nano-SIM" cards for use in devices connecting to cellular networks, on the condition that its design be selected and that other rights holders offer similar licenses to encourage adoption.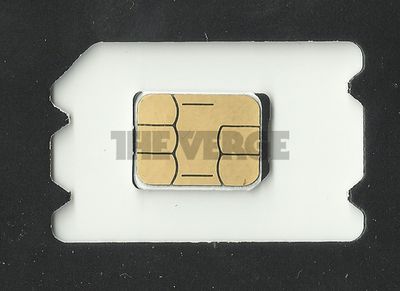 Prototype of Apple's proposed nano-SIM design inside outline of a mini-SIM card (Source: The Verge)
But as
reported by FOSS Patents
, the European Telecommunications Standards Institutes (ETSI) has postponed any vote on selecting a standard as the various companies proposing designs continue to squabble over the issue.
According to the report, the participating companies have failed to reach an agreement and decided not to hold the envisioned vote. In accordance with ETSI rules, the vote will now have to be postponed by a minimum of 30 days.

It appears that Nokia's overt unwillingness to license its potentially essential patents in the event that Apple's nano-SIM proposal is adopted and Sandisk's resistance to Nokia's proposal have resulted in an impasse. Sandisk, too, holds patents that may be essential to a new SIM card standard.
Apple is also coming under fire from the other participants in the negotiations, with Research in Motion accusing Apple of hiding its efforts to stack the voting panel by having at least three of its employees re-register for voting purposes as representatives of various carriers.
The RIM letter, which was submitted Wednesday, states that RIM over last few days has observed a number of people from one company changing their affiliation and registering to the meeting representing a completely different company. But voting by proxy during a technical body meeting is not allowed, according to RIM.

The letter highlights four examples, including three supposed Apple employees who have registered for Bell Mobility, KT Corp. and SK Telekom. Since voting by proxy isn't allowed, they should not be allowed to take part in the proceedings, according to RIM.
Apple's proposal is supported by most of the carriers, although it is unclear exactly what Apple's justification is for changing the registered affiliations of its representatives ahead of the previously-planned voting.