Next-Generation iPhone Part Leaks Begin with Home Buttons
As noticed by Apple Bitch, Chinese parts vendor TVC-Mall has begun offering "iPhone 5" home buttons for sale in both black and white. But what the report doesn't mention is that the buttons are indeed slightly different from the round home buttons seen on iOS devices to date.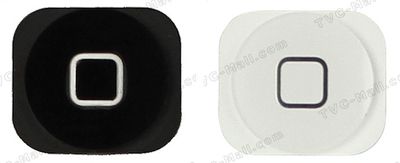 Front of "iPhone 5" home buttons
The new home buttons appear to have a rounded square shape much like iOS app icons, but retain the round depression for the button as seen in existing devices. TVC-Mall notes the distinction in its product description:
Different from iPhone 4S 4, the iPhone 5 home button is round in the centre and square outside as the pictures show. The two parts are indivisible.


Rear of "iPhone 5" home buttons
It is, however, unclear from the product images whether the design change will be noticeable to users. Specifically, it is not clear whether the rounded square portion of the button would be flush with the surface of the device with the round portion depressed slightly or if the rounded square portion might simply be below the surface of the device and invisible to the user as with the small edges and "wings" of the current iPhone home button design.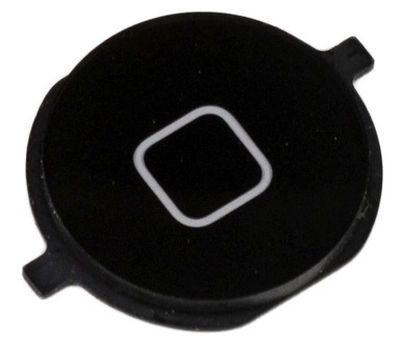 iPhone 4S home button (Source: iFixit)
We suspect that that the rounded square portion of the new home button will lie below the surface of the iPhone, serving to hold the button in place while remaining invisible to the user. In this scenario, only the standard round home button portion would protrude through the surface of the device to be accessed by the user.
In either case, it appears that rumors of Apple removing the home button entirely or replacing it with a touch-senstive button with a larger gesture area are once again unfounded. Such rumors have become common in the months leading up to the launch of each new iOS device, but Apple has maintained the contestant iconic presence of the home button introduced on the original iPhone through each new product release.
TVC-Mall has a history of leaking minor genuine iOS device parts well ahead of the products' official introductions, yielding hope that parts for the next-generation iPhone are beginning to surface from Apple's supply chain. If the parts are genuine, they may suggest that Apple is looking toward ramping production of the device, although these leaks sometimes come many months ahead of production.
Update: The home buttons are also listed for sale in both black and white at TrueSupplier, and images posted there more clearly show that the rounded square will lie behind the front of the device and serve to hold the home button in place.