First Gigabit Wi-Fi Routers Ready to Launch
Netgear today announced its first 802.11ac-compatible Wi-Fi router, capable of delivering gigabit speeds up to three times faster than current 802.11n routers. Topping out at 1300 Mbps in 5 Ghz mode and 450 Mbps in 2.4 GHz, Netgear's R6300 router will launch next month at a price of $199.99.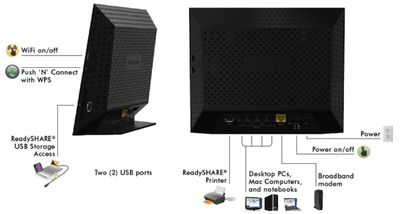 Netgear's announcement is notable for Apple observers, as it appears that it will represent the first shipping product based on the 802.11ac technology and Apple has been rumored to be introducing support for the faster technology in its AirPort products sometime this year.
Broadcom has already launched its first set of 802.11ac 5G Wi-Fi chips, even though the standard will likely not be finalized until later this year. It is, however, routine for Wi-Fi product manufacturers, including Apple, to embrace upcoming technologies even before they are finalized. Several other companies are set to closely follow Netgear's launch with their own products, with Buffalo having announced a June launch for its first 802.11ac router.
Apple last updated its AirPort Extreme and Time Capsule Wi-Fi base stations products in June 2011, while the smaller AirPort Express has not been updated since March 2008. Curiously, Apple was reported last September to be preparing to launch an updated AirPort Express, with a reference to the device appearing in developer seed notes for AirPort Utility at the time. Apple has not, however, launched such a device.
Support for 802.11ac would obviously also have to be incorporated into Mac and iOS hardware in order for them to take advantage of the new speeds.
Apple was one of the leaders in early adoption of 802.11 Wi-Fi technology, with the original iBook being the first mainstream computer to ship with the technology as an option in 1999, coming in the form of the original AirPort card running the 802.11b standard.