Apple Quietly Updates Time Capsule (2TB and 3TB) and AirPort Extreme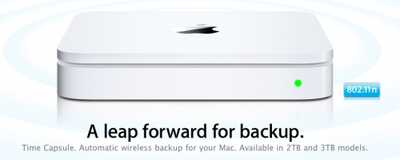 Apple has quietly updated their Time Capsule with 2TB and 3TB models, as expected. Pricing of the new units isn't clear as Apple hasn't updated the retail site, though the splash page still indicates "Starting at $299". There seems to be no mention of any new features aside from the hard drive capacities
Apple has also slightly tweaked the promotional pages for the AirPort Extreme, suggesting that that device has also received a quiet update. But again, no details on spec changes have been revealed.
Update: Apple has now posted store pages for the updated 2 TB ($299) and 3 TB ($499) Time Capsules. The new models offer the same price points as before, but with the upgraded capacities.
Apple has also posted a new store page for the AirPort Extreme, although it is still unclear what improvements are included over the previous generation. Pricing remains at $179.