Last week, we noted that Apple had begun sending emails to at least some current MobileMe users offering them free copies of Mac OS X Snow Leopard in order to assist them with ultimately upgrading to OS X Lion in advance of MobileMe's discontinuation at the end of June. Lion is required for full compatibility with iCloud, Apple's free service that replaces many of MobileMe's features.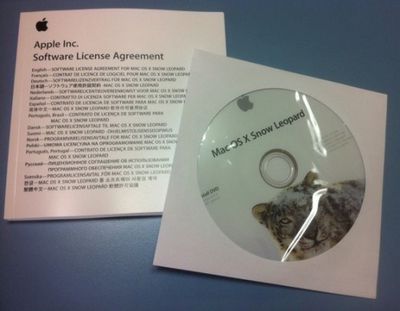 Several readers who requested free copies of Mac OS X Snow Leopard have reported receiving their shipments over the past day or two, with each disc arriving with a printed copy of the software license.
The discs contain Mac OS X 10.6.3, the standard retail version of Snow Leopard. After upgrading their systems to Snow Leopard using the disc, users will have to upgrade again to Mac OS X 10.6.8 via Software Update. Once that upgrade is completed, users can access the Mac App Store and purchase OS X Lion for $29.99.
The free Snow Leopard upgrade effectively cuts in half the fee for pre-Snow Leopard users to upgrade to Lion, as they would ordinarily have to purchase Snow Leopard on disc for $29 and then Lion through the Mac App Store for $29.99. By targeting the program at existing MobileMe members who have yet to transition their accounts to iCloud, Apple hopes to encourage as many users as possible to make the move before MobileMe services are officially turned off.
(Thanks, Ben!)