Apple Share Price Hits $600, Just One Month After Hitting $500
Apple's share price touched the $600 mark as trading opened this morning, just a month after reaching $500/share for the first time. The stock has, however, pulled back slightly since the open and now sits at $594.
The stock price has been on a tear ever since Apple reported blowout earnings for the first fiscal quarter of 2012, rising nearly $180/share, or close to 40%, in under two months.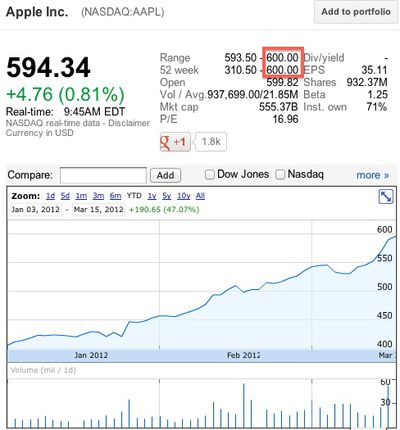 At the end of February, Apple broke through the important psychological barrier of $500 billion in market capitalization. Apple is the most valuable publicly traded company in the world, worth nearly $560 billion, more than $150 billion higher than second-place ExxonMobil.
Apple is now within $50 billion of claiming the "most valuable publicly traded company ever" title. According to the S&P, Microsoft had a peak market cap of $604 billion during the dot-com boom in December 1999. Adjusted for inflation, Microsoft was worth $813.42 billion in January 2012 dollars at its peak, and Apple would have to reach $873/share to surpass that total.