Apple's Market Capitalization Hits $500 Billion, Stock Up 34% in 2012
Apple's stock has hit yet another psychological milestone today, pressing through to reach $500 billion in market capitalization. Apple passed the milestone in after-hours trading yesterday, but has just now passed it in regular trading as the trading day opens.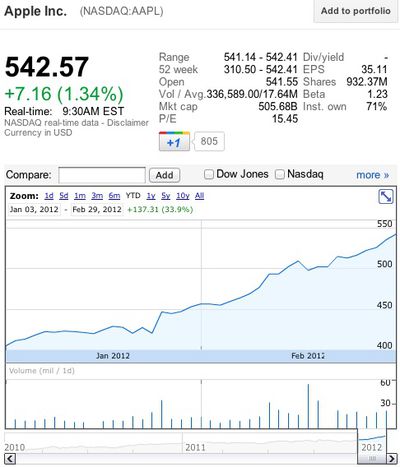 At the end of January, we noted that Apple had seen a remarkable 50-point gain during the first month of 2012 that saw the company's stock price increase by nearly 13%.
Amazingly enough, Apple's stock growth has only accelerated in February as anticipation for the iPad 3 and optimism over the company's continued strong financial performance has attracted investors. As Apple hits the $500 billion market cap milestone and is currently sitting at over $507 billion, it is now up over 34% in the first two months of 2012.