Apple Pulls Online iPad Sales from Amazon China for Unknown Reasons
Just as Chinese authorities have indicated that it would be difficult to impose a ban on Apple's iPad over a trademark dispute, Tech in Asia notes that the popular tablet has gone missing from online stores at Amazon China and Suning.com.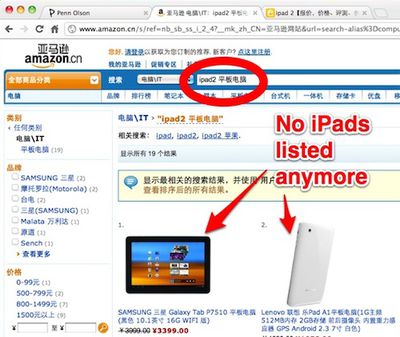 The removal is apparently not, however, the result of a request from Proview Technology, which is laying claim to the iPad trademark and which has been seeking to halt both imports and exports of the device in China. The company's efforts earlier this week resulted in local Chinese authorities seizing a small number of iPads from retailers as others removed their stocks from display to avoid the seizures.
M.I.C gadget reports that the removal of the iPad from sale at Amazon China and Suning.com is actually by Apple's request, although the reasons for the move are not entirely clear.
According to an Amazon China spokesman, the withdrawal is on the notice of Apple and also it's the adjustment on its sales strategy [...]

Meanwhile, Apple has not made any comments on the issue, and Apple's staffs in China refuse to reply too. However, as confessed by the lawyer of Proview, Proview did not apply for the administrative ban on the online sale of iPad in Beijing where Amazon China is located; also he has no idea about Apple's demand for the iPad withdrawal from Amazon China.
The dispute over the iPad trademark in China relates to a deal Apple made with the Taiwanese arm of Proview under which it claims it received the rights to the mark in China. But Proview's Chinese arm has argued that it controls the rights to the trademark in China, and thus Apple's deal with the Taiwanese subsidiary could not have included rights for mainland China. Chinese courts have sided with Proview in the dispute, but Apple is appealing the ruling.