Chinese Authorities and Retailers Removing iPads from Sale Over Trademark Issues?
Last week, we offered an update on the ongoing trademark dispute in China between Apple and Proview Technology, which claims to have held ownership of the "iPad" trademark there since 2000. Apple is said to be facing a potential fine of approximately $38 million from the government while Proview is seeking as much as $1.6 billion in damages.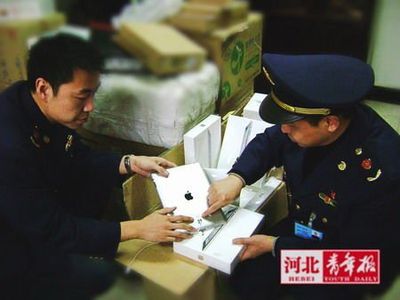 Chinese authorities examining seized iPads
According to new reports from
DigiCha
(
via The Next Web
) and
China.com.cn
[
Google translation
] , authorities have begun taken steps related to the trademark issue, confiscating iPads discovered in retailers' shops while other retailers move proactively to remove the devices from display in order to prevent their stocks from being seized.
DigiCha
reports:
Apparently as a result of the Proview iPad trademark infringement verdict, some local Administrations of Industry and Commerce (AIC) have started to confiscate Apple ($AAPL) iPads they find on sale. The article claims that many stores and resellers have taken the products off their shelves to avoid discovery by authorities, but if you ask for an iPad you can still buy one.
China.com.cn notes that as of 5:00 PM yesterday authorities had seized 45 iPad 2 units from retailers, but it remains unclear whether the actions are part of an nationwide effort or if local authorities are acting on their own initiative to address the issue.
Apple believed that it had acquired the rights to the iPad trademark in China in an earlier $55,000 deal with Proview's parent company that also included European rights. But Proview's Chinese arm has argued that the Chinese rights could not have been part of the deal because those rights were not controlled by the parent company.
Apple lost a lawsuit challenging Proview's claim on the trademark late last year, and Proview is continuing to press its infringement case against Apple.