AT&T Starts Throttling Unlimited Data Users after 2GB of Monthly Usage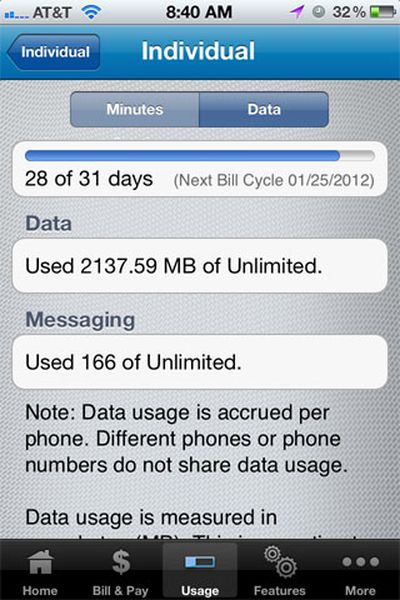 In October, AT&T announced that they would start throttling data usage amongst mobile Unlimited Data Plan users. While AT&T no longer offers an Unlimited Data plan to new customers, many of the original iPhone purchasers are still grandfathered into that plan. Those iPhone users have been able to retain these Unlimited plans, even though AT&T has since moved to a tiered data plan structure.
When AT&T announced their plan to start throttling users, the company said that they would only be throttling the top 5% of users. Early reports of affected users had pointed to 10GB-12GB per month users as the initially affected.
It seems that ceiling has decreased significantly over the past few months, at least for some regions. John Cozen reports that he received his top 5% data usage warning after reaching only 2.1GB of data for January.
I received a message during my last billing cycle, warning I was in the top 5% of my region and would experience reduced data speeds next time I reach that level of data use. I immediately checked my data usage on the AT&T iOS app.

2.1 GB. Less than I expected considering AT&T offers a 3GB plan for $30 a month. The same amount I've paid for the unlimited data plan since signing up with them many years ago. AT&T no longer offers an unlimited data plan, anyone still on it has been grandfathered in.
Cozen contacted AT&T to make sure it wasn't a mistake, and after several back and forth exchanges, it seems clear that it wasn't a mistake. The AT&T representatives seemed to confirm that 2.1GB did fall in the 5% range and the only option to avoid throttling was to move to a tiered plan.
Cozen was understandably upset since AT&T even offers an unthrottled 3GB plan for the same price he is paying at $30 month.
AT&T's top 5% measurement seems to be region-specific, as some users are continuing to see higher than 2GB usage without throttling.