AT&T Begins Warning High-Volume Data Users of Upcoming Throttling
In late July, AT&T announced that as of October 1st it would begin throttling data speeds for customers on unlimited data plans who registered in the top 5% of heaviest data users. While AT&T no longer offers unlimited data plans, customers who had signed up for such plans prior to their discontinuation, including many iPhone users, have been grandfathered in and allowed to keep their unlimited plans.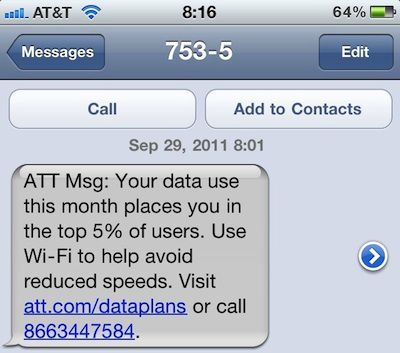 Reddit user "TheReverendZ" yesterday reported (via 9to5Mac) that he had received a text message from AT&T warning him that he had fallen into that top 5% group and encouraging him to use Wi-Fi to help avoid throttling of his data speeds. TheReverendZ notes that he typically uses 10-12 GB of data per month, as he does not have home Internet service, while "skelatwork" reports that he received a similar notice when he had passed approximately 11 GB of data for the month.
AT&T has noted that it will provide multiple warnings and a grace period before beginning to throttle data speeds, and it now appears that the carrier has begun the warning process. Customers subject to throttling will retain access to unlimited data but will see their speeds reduced until the start of the next billing cycle.