iPhone 4S Now 'In Stock' in Most Apple Online Stores
Customers looking to order the iPhone 4S through Apple's online stores have long been faced with minor shipping delays as the company sought to keep up with demand, with Apple's online stores for most countries initially citing 1-2 week shipping estimates for the all models of the device. Those windows tightened up a bit earlier this month when Apple shifted to 3-5 business day estimates, but it now appears that the Apple has achieved a relative balance of supply and demand as the iPhone 4S is now listed as "in stock" in most online Apple stores.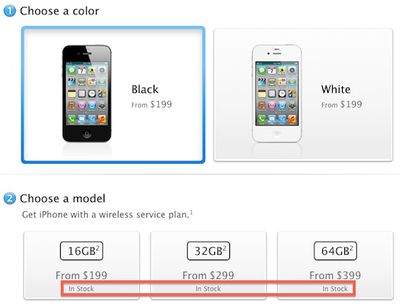 "In stock" is Apple's term introduced last September to replace the previous "within 24 hours" status that is indicative of near-immediate availability.
Apple experienced booming sales of the iPhone 4S during its launch quarter at the tail end of 2011, blowing away estimates by recording sales of 37 million units across all iPhone models, with the vast majority of customers said to be purchasing the iPhone 4S over the iPhone 4 or 3GS.