iPhone Average Selling Price Remains Steady Even With Free 3GS Offer
Earlier this week, Apple reported its best quarterly earnings ever, taking in more than $46 billion over three months. 53% of that revenue was from the sale of 37 million iPhones, at an average selling price of nearly $660. This ASP is particularly impressive, considering this is the first quarter that Apple has sold a "free" iPhone in the U.S. -- the iPhone 3GS is available for free to new two-year contract signers on AT&T.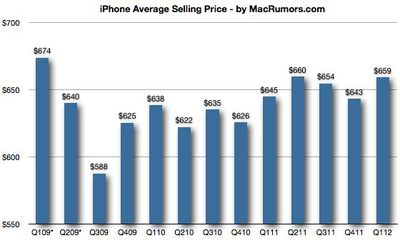 Apple's iPhone ASP has remained fairly consistent, hovering between $622 and $660 for most of the phone's lifespan. With Apple offering their cheapest iPhones yet this quarter, some analysts wondered if that would have a negative effect on the iPhone's ASP. It seems that demand for the 64GB iPhone 4S -- the most expensive iPhone yet at $849 -- has easily offset the cheaper iPhone 3GS and 4 models.


All Things D reports estimates from Consumer Intelligence Research Partners that claim 89% of iPhone purchases in the U.S. were for the iPhone 4S, with only 4% of buyers choosing the iPhone 3GS. More relevant for the discussion above, CIRP estimates that higher-end 4S models sold particularly well, with 21% of 4S purchasers opting for the 64GB model and 34% picking up the 32GB.