iPad Grabs 58% of Tablet Shipments in 4Q 2011
Research firm Strategy Analytics today announced the results of its calculations of worldwide tablet shipments during the fourth quarter of 2011, revealing that Apple continues to hold a majority of the market as Android improves its standing on the strength of Amazon's Kindle Fire.
Peter King, Director at Strategy Analytics, said, "Global tablet shipments reached an all-time high of 26.8 million units in Q4 2011, surging 150 percent from 10.7 million in Q4 2010. Demand for tablets among consumer, business and education users remains strong. Apple shipped a robust 15.4 million iPads worldwide and maintained its strong market leadership with 58 percent share during the fourth quarter of 2011. Apple shrugged off the much-hyped threat from entry-level Android models this quarter."
Despite strong growth in shipment share for Android, Apple's share is down less than four percentage points since the firm's estimates for the second quarter of last year. Android's other gains appear to have come at the expense of Microsoft and Research in Motion, which registered at 4.6% and 3.3% respectively during the second quarter.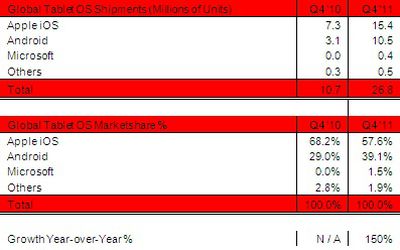 The relevance of Strategy Analytics' numbers have been questioned in the past due to its counting of shipments rather than end sales to customers. With many early Android tablets seeing little interest from consumers, the firm's reports were seen as overstating Android's impact by counting Android tablets still sitting on store shelves while Apple was selling nearly every iPad it could make. It is unclear whether that dynamic has changed with the introduction of the Kindle Fire, which has reportedly seen fairly strong adoption and which may have lower channel inventory needs due to Amazon's heavy emphasis on distribution through its own website.