Apple Estimated to Retake Title of World's Largest Smartphone Vendor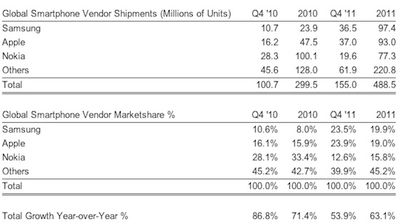 Research firm Strategy Analytics today announced its estimates of the global smartphone market for the fourth quarter of 2011, finding that Apple narrowly squeezed by Samsung to retake the title of world's largest smartphone vendor as measured by unit shipments. According to Strategy Analytics' numbers, Apple's 37 million iPhones narrowly eclipsed Samsung's quarterly smartphone shipments of 36.5 million units.
Neil Mawston, Executive Director at Strategy Analytics, added, "While Apple took the top spot in smartphones on a quarterly basis, Samsung became the market leader in annual terms for the first time with 20 percent global share during 2011. With global smartphone shipments nearing half a billion units in 2011, Samsung is now well positioned alongside Apple in a two-horse race at the forefront of one of the world's largest and most valuable consumer electronics markets."
Strategy Analytics showed Apple first taking the title in the second quarter of 2011 as it passed Nokia and held off a surging Samsung to become the world's largest smartphone vendor. But Apple's reign at the top was short-lived as Samsung easily topped the list in the third quarter on continued growth paired with a pause in iPhone sales ahead of the iPhone 4S launch. With the iPhone 4S launch now fueling Apple's numbers, it was able to retake the lead from Samsung in the fourth quarter, although it was not able to top the charts for full-year 2011.
One caveat for numbers released by Strategy Analytics and other research firms comes from the fact that Samsung no longer reports mobile phone sales numbers, ending the practice in mid-2010 for competitive reasons. Consequently, observers can only estimate Samsung's sales numbers based on the company's financial performance and other evidence.