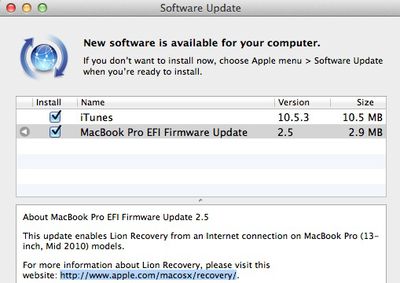 As noted in our forums, Apple today pushed out a new firmware update specifically targeting users of the company's Mid-2010 13-inch MacBook Pro model. The new MacBook Pro EFI Firmware Update 2.5 brings compatibility with Lion Internet Recovery, allowing users of OS X Lion to reinstall the operating system from scratch on a brand-new hard drive without the need for physical recovery media.
About MacBook Pro EFI Firmware Update 2.5

This update enables Lion Recovery from an Internet connection on MacBook Pro (13-inch, Mid 2010) models.

For more information about Lion Recovery, please visit this website: http://www.apple.com/macosx/recovery/.
The update has not yet appeared on Apple's support downloads site, but weighs in at a small 2.9 MB for the user who posted the Software Update screenshot.
Lion Internet Recovery debuted alongside OS X Lion on new MacBook Air and Mac mini models introduced last July. The feature adds a minimal bootable install onto a machine's firmware to allow it to connect the Internet and download the full Lion operating system for installation. OS X Lion by default installs a recovery partition on the machine's hard drive for this purpose, but for users who are installing a blank hard drive or whose recovery partition becomes inaccessible, Internet Recovery provides yet another fallback option for Lion installation.
Following the July introduction of Internet Recovery on the current MacBook Air and Mac mini models, Apple extended the feature in mid-September to the then-current Early 2011 MacBook Pro models that had been released in February 2011. One month later Apple brought the feature to Apple's current-generation iMac line, leaving only the aging Mac Pro without support for Internet Recovery.
With today's firmware update, Apple has for the first time reached back to a previous-generation model to bring Lion Internet Recovery to the 13-inch MacBook Pro that was offered from April 2010 through February 2011.
Update: Users are also reporting that similar EFI firmware updates are available for the Mid-2010 white MacBook and the Mid-2010 Mac mini.