Apple Halts In-Store iPhone 4S Sales in China Over Safety Concerns
Following early morning chaos at Apple's Sanlitun retail store in Beijing that prevented Apple from opening the store for the iPhone 4S launch, Reuters reports that the company has temporarily halted in-store sales of the device at all five of its retail stores in China.
"The demand for iPhone 4S has been incredible and our stores in China have already sold out," an Apple spokeswoman said.

"Unfortunately, we were unable to open our store at Sanlitun due to the large crowd. And to ensure the safety of our customers and our employees, iPhones will not be available in our retail stores in Beijing and Shanghai for the time being," she said.
The statement noted that customers would still be able to order the iPhone 4S through Apple's website or through carrier partner China Unicom. Apple's Chinese online store is, however, currently out of stock of all iPhone 4S models and not taking any orders.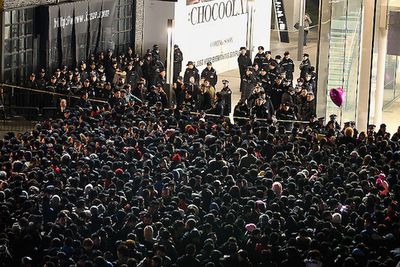 Police organizing to handle disruptions at Apple's Sanlitun retail store (Source: M.I.C gadget)
Teams of scalpers are very active at Apple's retail stores in China, with their efforts to snap up as much of the available supply of popular products as possible leading to significant tensions, particularly at product launches. Disruptions have occasionally forced Apple to briefly shut certain stores and tweak their purchasing requirements as they seek to manage the situation, but this morning's "near-riot" at the Sanlitun store seems to have been the most significant situation yet.