iPhone 4S Launch Delayed in Beijing as SWAT Teams Respond to Violence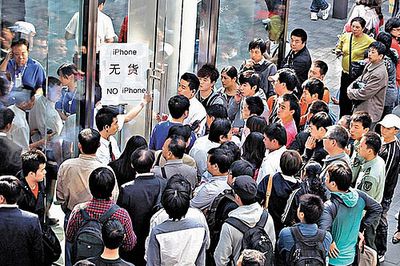 Reports coming in from M.I.C gadget and AppleInsider claim that Apple's Chinese launch of the iPhone 4S is not going particularly smoothly, with violence breaking out ahead of the opening at Apple's Sanlitun retail store in Beijing. According to reports, the violence has resulted in Apple delaying the planned early opening of the store by at least an hour, with the company potentially having canceled today's launch there entirely. From M.I.C gadget:
Lines outside the Apple store in Beijing's Sanlitun district show no signs of shortening, causing frustration for the thousands of fans and scalpers desperate to get their hands on the iPhone 4S. Now some of that disappointment is turning to anger, with reports of fights breaking out between gangs of scalpers, and guess what, Beijing SWAT teams arrived. So, the Apple store employees later announced that the launch of iPhone 4S is cancelled at the Apple's flagship store in Beijing, and all scalpers are pissed.
Bloomberg notes that Apple's "main store in Beijing" (presumably the Sanlitun store) is currently being pelted with eggs by customers upset with the delayed opening.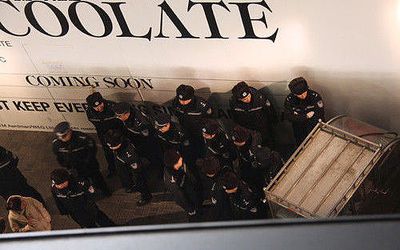 Officers from Beijing's SWAT team arrive at Apple's Sanlitun retail store
Apple has seen similar large crowds dominated by scalpers at many of its major product launches in China, with teams of people working to purchase as much of the available stock as possible for resale at higher prices. Violence has occasionally erupted both between scalpers and between scalpers and those upset with their strategies.
Update: Bloomberg now has an expanded story on the situation.
Apple Inc. (AAPL)'s main store in Beijing was pelted with eggs from a crowd of about 500 people after it failed to open on time for the start of sales of the iPhone 4S.

Apple had advertised that the store would open at 7 a.m. At about 7:15 a.m., the crowd began chanting "Open the door!" and "Liars!" after a man with a bullhorn said the phone would not go on sale today, without giving an explanation. The man also declined to identify himself to a Bloomberg News reporter. The crowd chased away a man who tried to stop the egg throwing.