Apple Maintains Third Place Ranking with 11.6% of U.S. PC Shipments in 4Q 2011
Research firm Gartner today released its preliminary personal computer shipment data for the fourth quarter of 2011, offering up a picture of market performance during the quarter. With year-over-year unit growth of over 20%, Apple was the only one of the top five U.S. vendors to see an increase in shipments in an overall market that shrank by nearly 6%.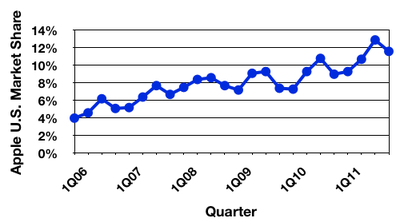 Apple's U.S. Market Share Trend: 1Q06-4Q11 (Gartner)
Apple's share dipped from
12.9% in the third quarter
, which is routinely the company's strongest quarter due to a heavy presence in education. But the performance marks a distinct improvement over Apple's 9.0% share in the year-ago quarter and continues a long-term trend of increasing market share.

Gartner's Preliminary U.S. PC Vendor Unit Shipment Estimates for 4Q11 (Thousands of Units)
As usual, Gartner did not cover Apple's worldwide market share for the quarter, as the company does not rank among the top five vendors on a worldwide basis. PC shipments shrank 1.4% year-over-year on a worldwide basis, with strong growth from Lenovo and Asus being offset by declines from HP and Acer.
Update: IDC has also released its numbers for the fourth quarter of 2011, yielding results similar to Gartner's. As is typical, IDC pegged Apple's market share slightly lower than in Gartner's data, with IDC showing Apple with 10.92% of the U.S. market on 18% year-over-year growth.
IDC also released numbers for full-year 2011, showing Apple in third place in the U.S. market at 10.73%, up from 8.83% in 2010. Apple's full-year growth of 16.41% easily outpaced the other top-five manufacturers in an overall U.S. market that declined by nearly 5% from 2010.