Apple's Share of U.S. PC Market Leaps to 12.9% in 3Q 2011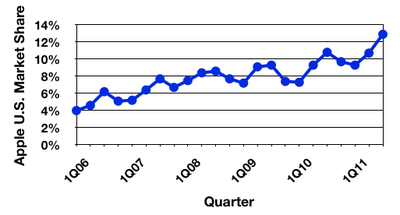 Apple's U.S. Market Share Trend: 1Q06-3Q11 (Gartner)
Research firm Gartner today
released
its preliminary personal computer shipment data for the third quarter of 2011, offering up a picture of market performance during the quarter. Riding the strength of the MacBook Air, Apple experienced aggressive 21.5% year-over-year growth to take third place in a U.S. market that grew by only 1.1% overall.
Gartner's early study shows that Apple experienced the strongest growth among the top five vendors in the U.S. PC market. Apple's PC shipments increased 21.5 percent in the third quarter of 2011. The robust growth of the MacBook Air continued to lead Apple's overall growth in the U.S. market.
With the boost, Apple's market share in the U.S. grew to 12.9% during the third quarter, up from 10.8% in the year-ago quarter and 10.7% last quarter.

Gartner's Preliminary U.S. PC Vendor Unit Shipment Estimates for 3Q11 (Thousands of Units)
As usual, Gartner did not cover Apple's worldwide market share for the quarter, as the company does not rank among the top five vendors on a worldwide basis.