German Court Unlikely to Award Apple Injunction Against Galaxy Tab 10.1N
Last month, Samsung released a revised Galaxy Tab 10.1N design in Germany in hopes of avoiding an injunction barring the sale of the device under its original design over claims of infringement from Apple.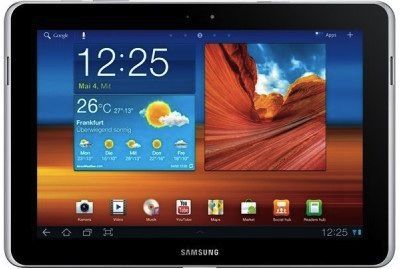 Samsung's Galaxy Tab 10.1N
Arguing that the design changes did not go far enough, Apple quickly
filed suit
in an attempt to bar the new design as well. But
according to Bloomberg
, the judge in the new case does not seem inclined to support such an injunction, giving customers credit for being able to distinguish between the devices.
The Dusseldorf court that banned sales of the Galaxy 10.1 on Sept. 9 is unlikely to grant Apple an injunction against the Galaxy 10.1N, Presiding Judge Johanna Brueckner-Hofmann said at a hearing today. Samsung has changed the device's design sufficiently to distance it from the iPad, she said, adding that the view is preliminary. [...]

"Consumers are well aware that there is an original and that competitors try to use similar designs, so buyers are vigilant when looking at products," Brueckner-Hofmann said. "We don't think that someone buys a Samsung to make his table neighbor at the coffee house believe he owns an iPad."
A final decision on Apple's request is scheduled to be released on February 9.
After several early wins in its efforts to bar sales of Samsung's tablet devices, the tide has begun to turn against Apple in a number of locations. In Australia, where an injunction against the Galaxy Tab 10.1 has been lifted, Samsung is now using the legal fight to promote its device, calling the Galaxy Tab "the tablet Apple tried to stop".