Samsung Tweaks Galaxy Tab 10.1 Design for Relaunch in Germany
German site mobiFlip.de reports (via FOSS Patents) that Samsung has apparently relaunched the Galaxy Tab 10.1 in Germany, tweaking the design and releasing it under a new Galaxy Tab 10.1N name in an attempt to skirt around the injunction against selling the original design.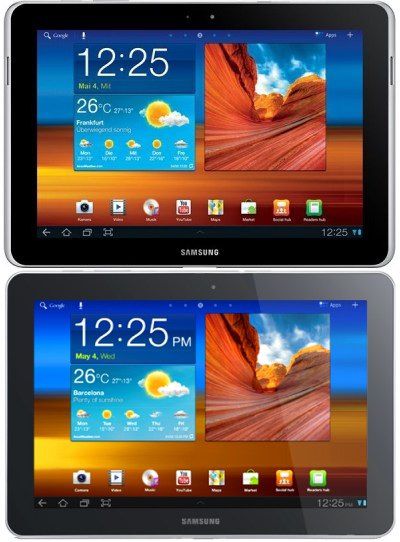 New Galaxy Tab 10.1N (top) vs. Galaxy Tab 10.1 (bottom)
The most obvious difference from the front of the device is that the metal frame around the edges of the device now wraps around slightly toward the front along two of the edges. It is unclear what, if any, other changes Samsung made to the device to address the court's view that Samsung had copied the iPad with its initial design.
As FOSS Patents notes, it is also unclear exactly how Samsung arrived at the slightly-tweaked design, although it likely was a result of consultation between designers and the company's lawyers well-versed in the court's findings and likelihood of accepting the design as different enough from the iPad to pass muster.