German Injunction Against Sale of Galaxy Tab 10.1 Upheld
FOSS Patents and Bloomberg report that a German court has upheld an earlier ruling preventing Samsung from selling its Galaxy Tab 10.1 in that country following an infringement complaint by Apple.
"The court is of the opinion that Apple's minimalistic design isn't the only technical solution to make a tablet computer, other designs are possible," [Presiding Judge Johanna] Brueckner-Hofmann said. "For the informed customer there remains the predominant overall impression that the device looks" like the design Apple has protected in Europe.

Samsung said it will appeal. The ruling "severely limits consumer choice in Germany" and "restricts design innovation and progress in the industry," the company said in a statement e- mailed after the ruling was issued.
A preliminary injunction against the sale of the Galaxy Tab 10.1 was initially granted one month ago and covered nearly all of the European Union, but the order was quickly suspended in practice for all countries except Germany after questions about the court's jurisdictional authority arose.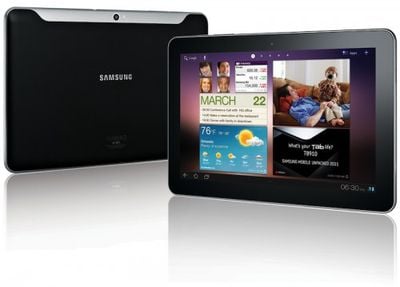 FOSS Patents notes that Samsung now has two options to overturn the German ban, either a separate fast-track case in a higher court that would likely take a few months or an automatic continuation of the existing case in the lower court into a full-blown lawsuit that could take up to a year to resolve.
The report also raises questions about whether today's injunction may even extend beyond the Galaxy Tab 10.1 to other Galaxy Tab models from Samsung.
The way the judge reportedly pronounced today's decision, Samsung won't be able to promote or sell any new products in Germany that infringe the successfully-enforced Community design for as long as the injunction is in force. In other words, if Samsung came out (hypothetically speaking) with a Galaxy Tab 9.0, it seems the injunction would apply.
Just last week, Apple was granted a new preliminary injunction barring the promotion and sale of Samsung's new Galaxy Tab 7.7 in Germany. The injunction forced Samsung to immediately pull the product from the expo floor at the IFA show in Berlin last week.