Apple Seeks Ban on Sales of Revised Samsung Galaxy Tab 10.1N in Germany
Dow Jones Newswires reports that Apple has filed a request for a preliminary injunction that would bar Samsung from selling its new Galaxy Tab 10.1N in Germany. Samsung launched the 10.1N earlier this month as a design-tweaked variant of the original Galaxy Tab 10.1 that is already barred from sale in Germany under an earlier injunction.
Apple has requested a preliminary injunction, and the Duesseldorf regional court has scheduled a hearing on the matter on Dec. 22, a spokesman for the court told Dow Jones Newswires on Tuesday.

The move has no effect on sales and distribution of the product, Samsung said in an emailed statement, while Apple repeated earlier comments that it intends to protect its intellectual property.
Samsung slightly tweaked the design of the Galaxy Tab 10.1 hardware to create the 10.1N, resulting in a frame that wraps around slightly onto the front of the device along its two short sides. Apple clearly feels that this design is not sufficient to overcome the ruling that the Galaxy Tab design infringes upon Apple's designs for the iPad, and is thus pursuing the new injunction.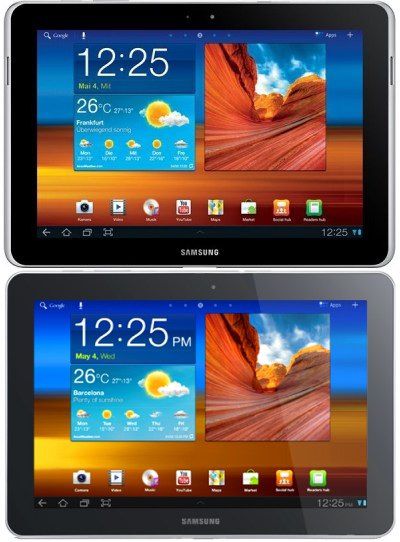 Galaxy Tab 10.1N (top) vs. Galaxy Tab 10.1 (bottom)
Meanwhile,
FOSS Patents confirms
that Apple's initial injunction awarded against the Galaxy Tab in Germany does in fact cover all three announced sizes of the device: 10.1, 8.9, and 7.7. Apple cites that injunction in a filing in its U.S. case against Samsung, illustrating how the company is using its string of wins over Samsung in international courts to bolster its U.S. case.