Samsung Turning Dispute with Apple to its Advantage in Australian Marketing
With the preliminary injunction banning sales of the Galaxy Tab 10.1 in Australia now lifted, Samsung is turning the dispute with Apple to its advantage, noting that the lawsuits have made Samsung a "household name" according to The Sydney Morning Herald.
"At the end of the day the media awareness certainly made the Galaxy Tab 10.1 a household name compared to probably what it would've been based on the investment that we would've put into it from a marketing perspective," [Samsung Australia vice president of telecommunications Tyler McGee] said.

Asked how many units of the Galaxy Tab Samsung was bringing in, McGee said "as many units as we can" but warned "there will probably be short supply against the demand".
Apple was granted an injunction blocking the sale of the Galaxy Tab 10.1 in Australia back in mid-October, with Samsung reporting that it may scrap the device's launch entirely there if the injunction was not lifted in time for the holiday shopping season. The injunction was indeed lifted in late November, but Apple won a one-week extension that carried the ban through to December 9th as it unsuccessfully tried to appeal the lifting of the injunction. The case will proceed to full trial next year.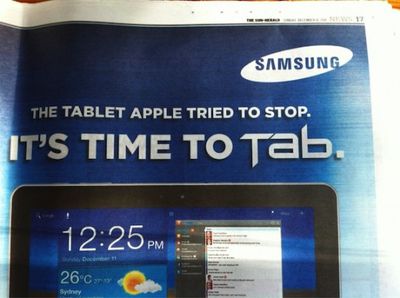 Meanwhile, Engadget points to a Tweet from @maungle showing a new Galaxy Tab 10.1 newspaper ad from Samsung carrying the tagline "The Tablet Apple Tried to Stop," illustrating how Samsung is seeking to tie its advertising to the lawsuit and portray the tablet device as so significant a threat that Apple felt the need to prevent it from going on sale.