Samsung to Try to Beat Apple to Market with a "Retina" Display Tablet?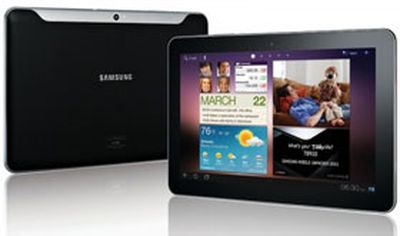 The ongoing battle between Samsung and Apple might get a little more intense come February. BGR reports that Samsung is preparing to launch its own high resolution 11.6" tablet that will carry a 2560 x 1600 resolution screen.
Even though the tablet features a larger display than Samsung's Galaxy Tab 10.1, we're told that the tablet is "barely larger" due to the fact the slate will have a thinner bezel with a whopping 2560 x 1600 resolution, 11.6-inch screen with a 16:10 aspect ratio.
A resolution of 2560x1600 would beat the 2048x1536 display that the iPad 3 has been rumored to have.
Samsung first introduced a similar 2560x1600 screen back in May at SID Display Week 2011 International Symposium. That screen, however, used the less conventional PenTile technology to achieve its high resolution which has been criticized for some potential drawbacks.
The PenTile display uses a series of local filter operations to convert the underlying image into display intensities, including convolution, thresholding, color curve adjustment, and postprocessing with locally-adaptive filters. In practice, this means the display blurs the red and blue channels by dispersing these color intensities to the nearest subpixel element of the right color, and then also implements subpixel positioning to increase the apparent resolution again. However, subpixel spacing is not constant across the display, making the real apparent resolution complicated to estimate
Apple and Samsung have been in an ongoing legal battle over similarities the Galaxy Tab product line and the iPad.
Apple has been long rumored to be working on a high resolution iPad display that would carry twice vertical and horizontal resolution of the iPad. Apple used a similar technique when it upgraded the iPhone's screen to 960x640 from 480x320. Apple's iPad 3 is expected to carry a resolution of 2048x1536, up from 1024x768 in the current iPad. Rumors have suggested that there have been production holdups on creating these high resolution screens in quantities. The latest reports suggested Apple could also be able to release the iPad 3 as early as February, though other reports have suggested a slightly later release.