Retina Display-Equipped iPad 3 to Launch in February?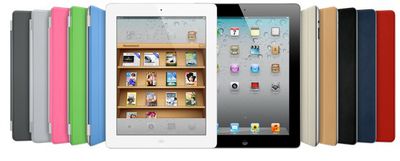 The next iPad will be introduced in February according to a research note issued by Citi analyst Richard Gardner, obtained by Business Insider.

According to "several sources" the next iPad will launch in February, and it will sport a screen with double the resolution of the current model.

Gardner says, "there do not appear to be any significant technical hurdles remaining" to prevent a launch of a high-resolution iPad, despite rumors to the contrary.
Gardner's note echoes prior reports of a mid-Winter launch for the iPad 3.
Some reports had been suggesting that Apple's display suppliers were struggling with mass production of the higher-resolution 2048x1536 displays for the iPad 3, but reports over the past few weeks have indicated that the production is now moving along at Samsung, LG, and Sharp ahead of final iPad 3 assembly scheduled to begin next month at Foxconn.
One issue that has remains unclear is whether the iPad 3 will be thinner or slightly thicker than the iPad 2. Several sources have claimed that the iPad 3 will need to be slightly thicker due to the adoption of a dual light bar system to handle the significant jump in display resolution. But another report from late last month claimed that Apple will be utilizing a new display technology to support the high-resolution without requiring dual light bars, a development that will allow the iPad 3 to be slightly thinner than the current model.