More Evidence for 2048x1536 iPad Retina Display
More evidence has emerged to suggest that a future version of the iPad will sport a "Retina" display with a resolution of 2048x1536, or double the horizontal and vertical pixels of the current iPad.
Back in January, a number of images were discovered within iPad apps showing icons twice the size needed for the 1024x768 screen on the iPad. This suggested a similar pixel-doubling strategy to that used in the iPhone 4's Retina Display. That particular feature wasn't included in the iPad 2, but perhaps will be in the iPad 3.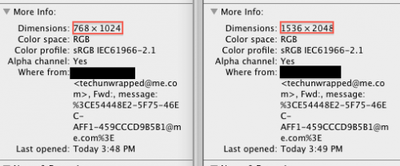 New clues regarding a possible 2048x1536 iPad display were reported today by Techunwrapped. Their tipster noticed the Twitter.framework within the iOS SDK had huge images, twice the size needed for the current iPad:

As I was going through the iOS SDK I came across some images in the new Twitter .framework. The resolution appears to be 1,536 x 2,048.

The Twitter.framework is the only framework I found to have these enormous images.
Techunwrapped goes on to suggest that because the large images were only included in the Twitter section of the iOS SDK -- a relatively new part of the iOS codebase -- it means an iPad 3 will come out in the same timeframe as iOS 5 is released.
Based on the discovery of pixel-doubled iPad images as far back as January, we are hesitant to attach any significant timeline to these discoveries, but they are simply more signs that Apple plans to release a Retina Display-equipped iPad.