Thinner iPad 3 Coming with Low-Power Retina Display?
Rumors of a high-resolution 2048x1536 display for the iPad 3 have been circulating for some time now, but the new display's effect on the device's form factor is still up for some debate.
A claim from earlier this month regarding Apple requiring two light bars in order to manage the much higher resolution of the iPad 3 was followed just last week with a report that the device will be 0.7 mm thicker than the iPad 2 in order to accommodate that dual light bar design.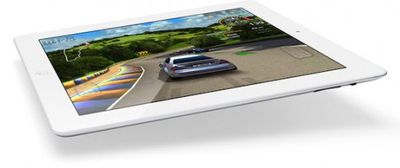 More claims of a 2048x1536 display for the iPad surfaced earlier this week, with that analyst's source indicating that Apple will continue to use in-plane switching (IPS) technology for the new display.
But a new report from Jeffries analyst Peter Misek and shared by Forbes claims that Apple will not be using IPS on the iPad 3, and has in fact invested $500 million to $1 billion in new equipment to allow Sharp to produce the required displays using technology permitting a thinner and lower-power design.
Also, we believe that Apple and Sharp together have a modified IGZO (indium, gallium, zinc) technology to achieve 330 dpi, which is sufficient for an HD display while not using IPS nor having to include dual-bar LED backlighting. In our view, this should lead to several design advantages, namely the device can be thinner, battery life should be longer, and the overall experience for users should be meaningfully improved.
Misek noted in a separate report issued earlier today that Apple and Sharp are also working together on displays for an Apple television set, with a retooled Sharp manufacturing line preparing to begin mass production of those obviously much larger displays in February.