'Apple Store' App for iOS Updated to Support New Self-Checkout System for Retail Stores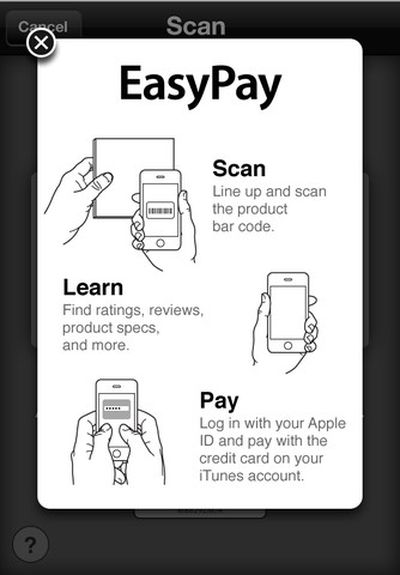 In line with our report from the previous weekend, Apple has updated its Apple Store application for iOS [App Store] with new support for self-checkout at the company's retail stores.

What's New in Version 2.0

- Personal Pickup: Buy in the app and choose to pick up your order at any Apple Retail Store. Most in-stock orders are available for pickup within an hour. (U.S. only)

- EasyPay: Purchase select accessories in store quickly by scanning the barcode and completing your transaction right in the app. (U.S. only, requires iPhone 4 or iPhone 4S)

- Track your stuff: View the status of current and previous orders from the order status section in the More tab.

- Additional international support (Canada, China).
As detailed last week, the app now allows customers visiting any Apple retail store to use their iPhone's camera to scan the barcodes of shelf-stocked accessory items and purchase them using their Apple ID/iTunes Store accounts. The process bypasses the need to track down a member of the sales staff to process the transaction via their EasyPay mobile payment processing systems.
As part of the retail store enhancements, Apple is also rolling out in-store pickup for online purchases in the United States, allowing users to have their online orders shipped directly to a retail store for pickup rather than having to arrange to receive delivery at their home or office. For items stocked in-store, users will be able to purchase items and have them available for pickup within minutes. For custom orders and other items not normally carried in-store, products will take several days to be shipped to the store, at which point the customer will be notified that their order is available for pickup.
The in-store pickup program launched in late October at Apple's three San Francisco stores, and quickly expanded to include all 51 California stores as well as the company's four New York City stores. With today's enhancements, the program has now been rolled out to all U.S. stores.