Details on Apple Retail's New In-Store Pick Up and Self Check Out Process
MacRumors had previously revealed some interesting changes coming to Apple Retail stores this Thursday. These changes include an expansion of the ability to pick-up online orders at Apple Stores as well as a surprising new self-check out capability. These new features will be released as an update to the Apple Store App in the App Store.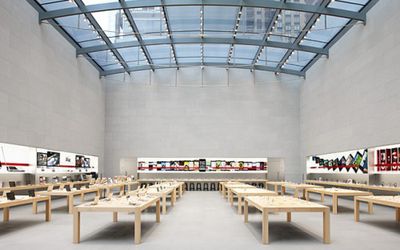 As reported on BGR, the new system works as follows:
Online Orders with In Store Pickup and Returns
- For standard in-stock items, the product will become available to pickup in about 12 minutes. This provides the system enough time to send the order to the store, and allow Apple Retail employees to set aside items for pickup. Customers will be able to skip lines, and simply have to sign for them and leave.
- For build-to-order, engraved devices or other out-of-stock items, Apple will ship the items to your local Apple Store for free. Customers will receive a pick-up date and a push notification to the App will let you know when it has arrived. Again, 12 minutes from the push notification, the order will be ready for pickup
- Apple expects the majority of customers will eventually use in-store pick up for buying products.
- Customers will be able to return items purchased online to retail stores.
Self Check Out
This is an even more interesting feature that Apple is deploying that will help streamline the Apple retail experience. Apple will be allowing customers to use the Apple Store app to buy smaller items such as accessories while in the store. Customers won't have to even talk to a retail employee:
Here is how this will work: after you find the item you want to buy, like an accessory, you launch the Apple Store app on your iOS device and there will be an option to buy a product in the store. You scan the product with the camera on your device in the app, click purchase, and it will charge whatever credit card is associated to your Apple ID. You then just walk out of the store.
According to BGR, Apple will not be manually verifying purchases.
Both In-Store Pickup and Self Check Out are expected to be launched on Thursday, November 3rd worldwide.