C Spire Launching iPhone on November 11th, 'Unlimited' Non-Streaming Data and 500 Minutes for $50
Regional U.S. carrier C Spire garnered headlines last month for its announcement that it would begin offering the iPhone 4S in the coming weeks, becoming the fourth U.S. carrier to offer the iPhone and coming ahead of several other larger carriers, most notably T-Mobile USA.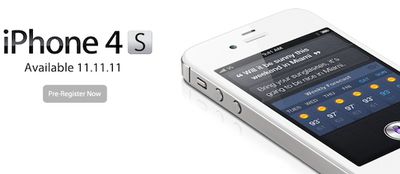 C Spire has now confirmed that it will launch both the iPhone 4S and iPhone 4 on November 11th, alongside the iPhone 4S debut in fifteen other countries. Device pricing is in line with other U.S. carriers, and C Spire is taking pre-registrations beginning today.
iPhone 4S will be available starting at $199.99 for the 16GB model, $299.99 for the 32GB model and $399.99 for the 64GB model with a new two-year contract and data plan. In addition, the iPhone 4 8GB model is available for $99.99, also with a new two-year contract and data plan. iPhone 4S and iPhone 4 will be available at C Spire Wireless retail stores, online at www.cspire.com/iPhone and through the Telesales group at 1-855-CSPIRE4. C Spire customers can pre-register for iPhone beginning today at www.cspire.com/iPhone.
Most notably, C Spire will be undercutting service plan prices from the major U.S. carriers in some regards, with a low-end $50/month plan offering 500 minutes, unlimited SMS, and "unlimited" data. That $50 plan and a $70 plan also offering unlimited calling do, however, carry an interesting restriction that will not allow customers to "stream" data.


Additional details on C Spire's streaming policies are available on its plan description pages, which note that the company typically offers 30 minutes of free streaming of "videos, music and game broadcasts" in each 30-day billing cycle, although unlimited streaming is currently free through the end of the year. Unlimited streaming access is available as an add-on for $30 per billing cycle, or separate streaming passes can be purchased for $5 (two hours), $10 (five hours), or $30 (unlimited for 30 days) as needed.
C Spire Wireless is based in Ridgeland, Mississippi and focuses its service on Mississippi, parts of Alabama and the Florida Panhandle, and the Memphis, Tennessee and Rome, Georgia areas. The carrier has approximately 875,000 customers and operates a CDMA network utilizing the same technology as Verizon and Sprint.