iPhone 4S Coming to U.S. Regional Carrier C Spire Wireless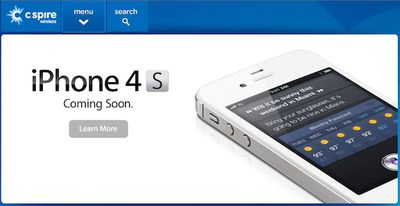 While Sprint made waves in becoming the third U.S. carrier to offer the iPhone with the launch of the iPhone 4S, it appears that Apple will be broadening distribution even further to include smaller carriers as well. Regional carrier C Spire Wireless, formerly known as Cellular South, today announced that it will begin offering the iPhone 4S in the coming weeks.
C Spire Wireless announced today that it will launch iPhone 4S, the most amazing iPhone yet, in the U.S. in the coming weeks.

For further information or to register interest, please visit www.cspire.com/iphone. For more information on iPhone 4S, please visit www.apple.com/iphone.
C Spire, which operates a CDMA cellular network like Verizon and Sprint, is the largest private wireless telecommunications provider in the United States with approximately 875,000 customers. While C Spire's subscriber base pales in comparison to those of AT&T, Verizon, and Sprint, the carrier's offering of the iPhone 4S signals a distinct shift by Apple to open up the iPhone to even more customers by reaching agreements with smaller carriers.
C Spire Wireless is based in Ridgeland, Mississippi and focuses its service on Mississippi, parts of Alabama and the Florida Panhandle, and the Memphis, Tennessee and Rome, Georgia areas.