Apple Retail Stores to Offer In-Store Pickup of Online Orders
Apple is making plans to roll out a new pilot program that will allow customers to pickup orders placed through the company's online store at one of their local retail stores. The program, reportedly known as Sherwood, will include any product available through the online store, including custom-configured Macs, engraved and gift-wrapped products, and the full slate of third-party accessories.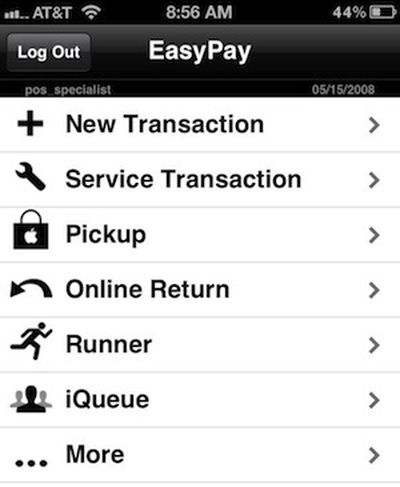 Apple's retail store EasyPay system with Sherwood offerings
Customers placing online orders will be offered the ability to select an Apple retail store for pickup, with standard configurations and accessories generally being available on a same-day basis as store stocks allow. Other items may take a few days to be delivered to the store.
In-store pickup of items purchased online will reportedly require proof of purchase and an ID, with one major benefit of the program being the ability to designate one additional person to be eligible to pick up the order. One of our sources also notes that the program offers the benefit of being able to avoid home delivery of holiday gifts that might otherwise reveal the nature of the gift during the upcoming holiday period.
With the rollout of Sherwood, Apple retail stores will also begin accepting returns of eligible online orders, streamlining the return process so that customers do not necessarily have to deal with return shipping issues.
Apple already offers some integration of online shopping and its retail stores, offering users the ability to reserve products from available retail store stock. The company has also expanded that program during certain busy holiday shopping times to include gift wrapping of standard-configuration Mac and iPod products.
The Sherwood pilot program will reportedly be initially available only through select retail stores, with company planning to expand it across the retail store chain in the future.