Apple Updates iPad 2 Smart Cover Offerings with Color Tweaks
Alongside today's quiet MacBook Pro refresh, Apple has also updated its iPad 2 Smart Cover offerings, perhaps most notably discontinuing the orange polyurethane cover and replacing it with a new dark gray cover.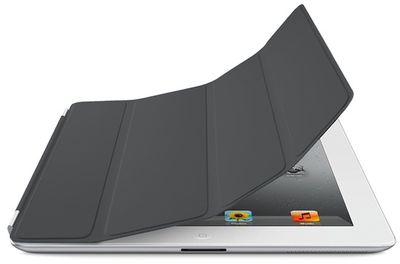 New dark gray Smart Cover
Other changes include:
- Interior color now matches exterior color. The interior side of the Smart Cover facing the iPad screen had previously been a uniform gray color on all models with the exception of the (PRODUCT) RED version. All Smart Covers are now a consistent color inside and out.

Smart Cover showing tan color on outside and inside
-
More vibrant colors for polyurethane covers.
Aside from the replacement of the orange cover with a dark gray one, sources indicate that the colors on the polyurethane models are now more vibrant. Polyurethane Smart Covers come in blue, green, pink, light gray, and dark gray.
- Color adjustment on navy leather cover. Apple offer five different leather Smart Covers, and sources reports that Apple has slightly tweaked the color on the navy version to make it "more navy" than the original version. All other colors (tan, black, cream, and red) remain unchanged.
Pricing on the Smart Covers remains the same, with polyurethane covers coming in at $39.00 and leather covers priced at $69.00. While Apple's store pages have been updated with the new colors, the company's Smart Cover page does not yet reflect the changes.