Apple to Release Updated MacBook Air and Mac Pro Models This Week?
9 to 5 Mac reports that reliable tipster "Mr. X" has revealed that Apple will be releasing new MacBook Air and Mac Pro models this week alongside OS X Lion.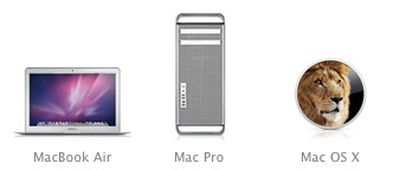 According to Mr. X, Apple will be releasing four new MacBook Air models, appearing to match up with the current lineup of two stock configurations each in the 11-inch and 13-inch sizes. MacBook Air updates have been expected within this general timeframe for some time now, and Apple is said to have been holding the release until it can ship the new machines with OS X Lion preinstalled. The new models include:
MC965LL/A - K21, BETTER, BTR-USA
MC966LL/A - K21, BEST, BTR-USA
MC968LL/A - K78, BETTER, BTR-USA
MC969LL/A - K78, BEST, BTR-USA
On the Mac Pro side, Apple again appears to following its existing lineup with three standard stock configurations alongside a dedicated "Server" configuration. Reports had been suggesting that the Mac Pro would see a refresh in late July or early August, so Apple's appears to be a bit ahead of that schedule provided that it is indeed shooting for a release this week.
MC936LL/A - J40, ULTIMATE - USA
MC815LL/A - J40, BETTER - USA
MC816LL/A - J40, BEST - USA
MC914LL/A - J59, BEST - USA
Mr. X has not offered a specific release date for the new machines, but it appears that Apple may be targeting this Thursday, July 14th for the hardware launch alongside OS X Lion.