Sprint Denies Report of Unlocked Micro-SIM in iPhone 4S
Yesterday, Macworld reported that Sprint would be selling the iPhone 4S with an unlocked micro-SIM slot, potentially allowing users traveling abroad to simply slip in a local micro-SIM card and avoid high roaming costs.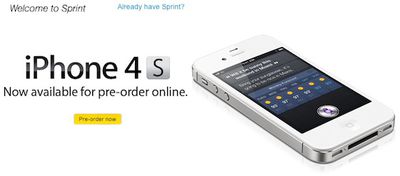 Ars Technica now reports that Sprint has reached out to deny this report, indicating that the iPhone 4S will not work with international micro-SIMs.
However, while Sprint will now support international roaming on GSM networks with the appropriate monthly plan, the company will not be selling the phone unlocked for use with international microSIMs. Ars asked Michelle Mermelstein, a Sprint wireless device public relations representative, to confirm that the Sprint iPhone 4S would not work with international microSIMs. "That is correct," Mermelstein said. "I believe Verizon's device works the same way."
Sprint customer service agents have also been offering similar information in response to questions about international travel with the iPhone 4S.
iPhone 4S has World Mode Capabilities with the pre-inserted SIM card. However, you will not be able to use non-Sprint SIM card with it, due to technology differences. If you purchase iPhone 4S you will be able to use it internationally with Sprint Services.

Note: International capabilities will be locked and you will have to call Sprint to activate.
The iPhone 4S, officially set to launch on Friday, is a world-mode device capable of supporting both GSM and CDMA networks, but carrier locking and other requirements will substantially limit that flexibility for customers purchasing subsidized versions of the device.