Siri Voice Recognition Arrives On the iPhone 4S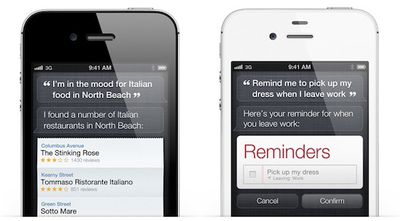 As one of the main features of the iPhone 4S, Apple today introduced Siri a personal assistant that can
answer questions and perform for tasks for users based on voice input.
Siri on iPhone 4S lets you use your voice to send messages, schedule meetings, place phone calls, and more. Ask Siri to do things just by talking the way you talk. Siri understands what you say, knows what you mean, and even talks back. Siri is so easy to use and does so much, you'll keep finding more and more ways to use it.
Apple covers a number of examples of Siri's flexibility on the feature page and describes them in its
iPhone 4S press release
:
Siri understands context allowing you to speak naturally when you ask it questions, for example, if you ask "Will I need an umbrella this weekend?" it understands you are looking for a weather forecast. Siri is also smart about using the personal information you allow it to access, for example, if you tell Siri "Remind me to call Mom when I get home" it can find "Mom" in your address book, or ask Siri "What's the traffic like around here?" and it can figure out where "here" is based on your current location. Siri helps you make calls, send text messages or email, schedule meetings and reminders, make notes, search the Internet, find local businesses, get directions and more. You can also get answers, find facts and even perform complex calculations just by asking.
Siri is launching as a beta with support for English (US, UK, and Australia), French, and German. Additional languages and features will be added in the future.