Apple Introduces iPhone 4S with A5 Chip, Faster Graphics, Siri Voice Assistant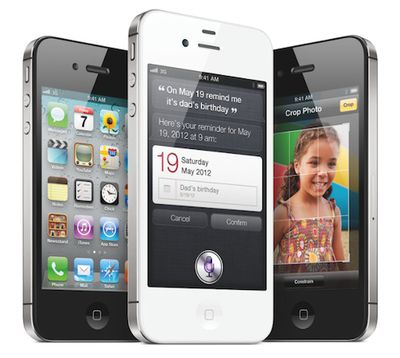 Apple today officially introduced the iPhone 4S, the company's next-generation iPhone offering a completely redesigned interior with a number of new features.
Apple today announced iPhone 4S, the most amazing iPhone yet, packed with incredible new features including Apple's dual-core A5 chip for blazing fast performance and stunning graphics; an all new camera with advanced optics; full 1080p HD resolution video recording; and Siri™, an intelligent assistant that helps you get things done just by asking.
One of Apple's most highly-touted features for the iPhone 4S is its camera, which checks in at 8-megapixels and contains a host of improvements over the iPhone 4's camera.
iPhone 4S includes an all new camera with the most advanced optics of any phone. The 8 megapixel sensor has 60 percent more pixels so you can take amazing high quality photos with more detail than ever. iPhone 4S includes a new custom lens, a larger f/2.4 aperture and an advanced hybrid IR filter that produce sharper, brighter and more accurate images.
Apple also notes that it has completely redesigned the antenna system for the iPhone 4S, making the device the first phone to intelligently switch between antennas for sending and receiving. The iPhone 4S is a world phone supporting both GSM and CDMA technologies, and also supports HSDPA download speeds of up to 14.4 Mbps, twice that of the iPhone 4.
Talk time over 3G comes in at eight hours on the iPhone 4S, with the device also offering six hours of 3G browsing. The iPhone 4S also included Bluetooth 4.0 for improved short-range wireless interfacing.
The iPhone 4S will launch on Friday, October 14th in the United States, Australia, Canada, France, Germany, Japan and the United Kingdom, with pre-orders beginning this Friday, October 7th. The iPhone 4S is available in both black and white and comes in three difference capacities: 16 GB ($199), 32 GB ($299), and 64 GB ($399). All prices are for on-contract purchases.
The iPhone 4S will debut in an additional 22 countries by the end of October. Those countries include: Austria, Belgium, Czech Republic, Denmark, Estonia, Finland, Hungary, Ireland, Italy, Latvia, Liechtenstein, Lithuania, Luxembourg, Mexico, Netherlands, Norway, Singapore, Slovakia, Slovenia, Spain, Sweden and Switzerland.