Apple's 'N94' iPhone 4S Appears in Inventory Database
Yesterday, word surfaced that entries for revised iPhone 4 models had appeared in Apple's inventory database, but at the time there was no sign of new iPhone 4S or iPhone 5 models.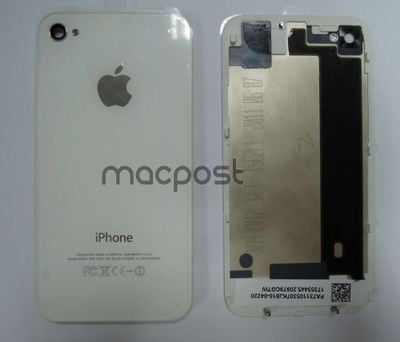 Back cover of iPhone 4S
9to5Mac now reports
that entries for an iPhone identified as "N94" have indeed appeared in the database, courtesy of reliable source "Mr. X". The N94 iPhone has been the subject of
numerous parts leaks
that have revealed it to be iPhone 4-like in appearance, with the device having been rumored to be called the iPhone 4S.
With one of higher-end models of the N94 iPhone listed in the database with a model number of MD234, the developments may lend credence to a leaked photo of what was claimed to be a label for the white 16 GB iPhone 4S. That label, which surfaced on a Chinese forum yesterday, refers to the lower-end device as model number MD239.


That label, presuming it is genuine, also makes reference to both IMEI and MEID numbers, which would indicate that the device is indeed a world-mode phone capable of operating on GSM (IMEI number) and CDMA (MEID number) networks.
There continues to be no sign of the rumored redesigned iPhone 5 that has been the subject of much discussion since case designs based on a leaked design document began appearing several months ago.
Mr. X also indicates that Apple's iPod touch line may be seeing some price drops next week, at least in international markets. It is unknown exactly what price points the iPod touch will come in at in the United States, as it is unclear how much of the international price adjustment is due to currency fluctuation and how much might be due to an actual price cut.
The report suggests, however, that the entry-level 8 GB iPod touch could come in at $199 or below, down from its current $229 price point. The iPod touch is expected to see only very minor updates next week, with the addition of white models, improved ambient light sensors, and oleophobic coatings for the displays being the primary changes.